How to enter LEL on 7 January
London Edinburgh London opens for entries on 7 January 2022. This very quick guide explains how the entry process will work.
There are two routes into the event:
Guaranteed Entry
This group is for the following people:
London Edinburgh London 2017 and Windsor Chester Windsor 2019 volunteers
Audax UK members who were members on 12 September 2018, and remain members on 1 January 2022.
Audax Ireland members who have told Audax Ireland that they would like a place at LEL.
Anyone who has completed an event validated by Les Randonneurs Mondiaux in four out of five calendar years 2017, 2018, 2019, 2020 and 2021 (four events in total).
Anyone who brings a spouse or immediate family relative (parent, child, sibling) to volunteer, both at London and another control, for at least three full days.
Riders in these groups can enter the event directly.
Ballot Entry
If you do not qualify for a guaranteed place then you are in this group and will need to enter the ballot for a place.
So how do I enter?
On our our Enter page on 7 January you will see something similar to the image below.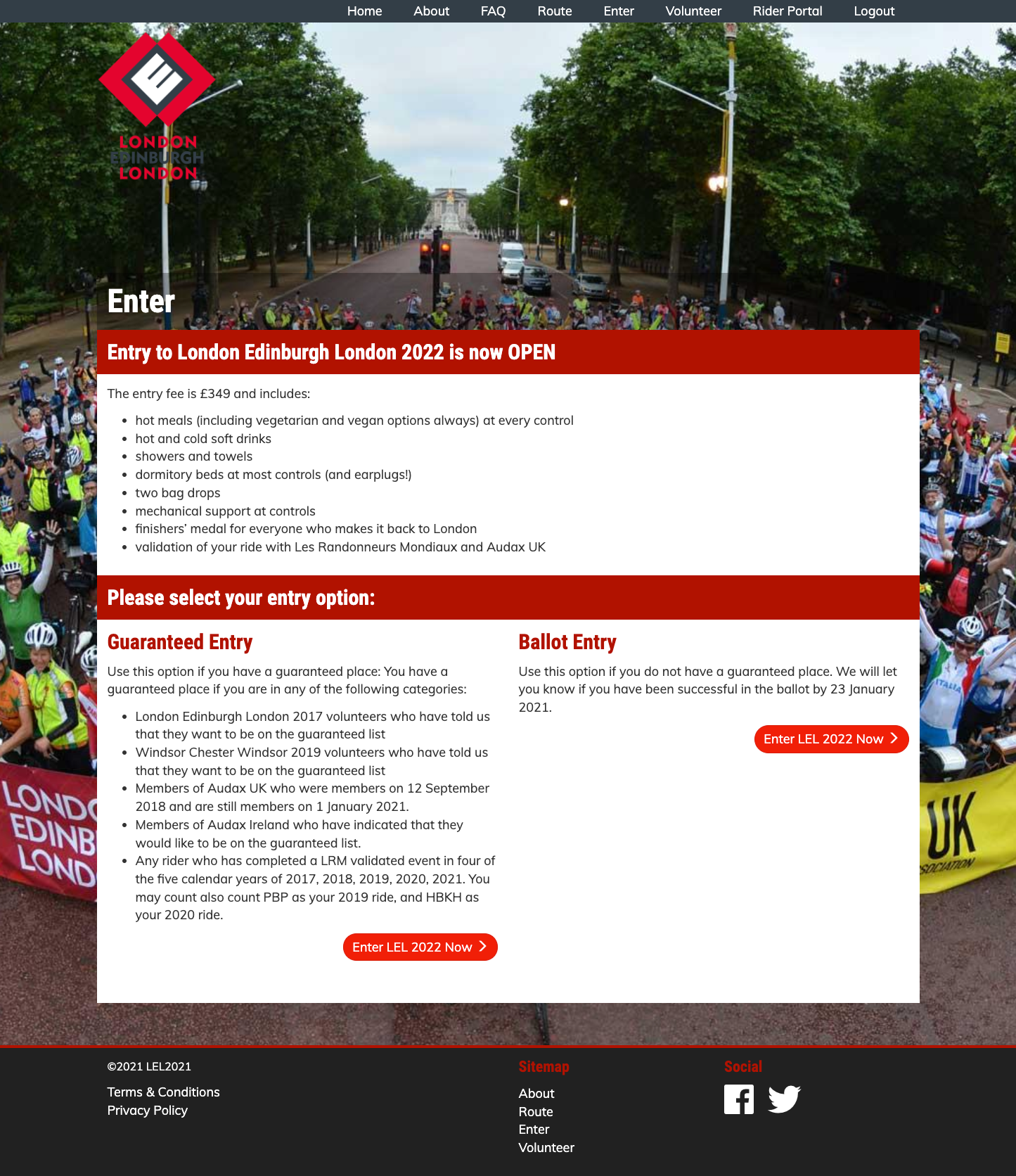 To enter, simply click on the link that applies to you and follow the instructions.
Riders with a guaranteed entry will first need to confirm their email address and set up an account on our website. Make sure that you use the email address that is registered with us, as this is your key to a guaranteed place.
Both the guaranteed entry route and the balot will close on 21 January 2022. We will then let everyone in the ballot know whether or not they are successful by 23 January 2022.
How to pay
When we have accepted your entry, and registered you on the website, you will receive an email with the payment details. You will need to pay for your place by 14 February 2022 or we will offer it another rider.
Getting onto the guaranteed place list
It's now too late to earn a guaranteed place, but if you already qualify you still have a week or two to make sure we hold the correct email address for you:
Good luck for the ballot, and we will hopefully see all of you in London next year.