Route
Our route for 2025 is 1530 kilometres (950 miles) long and offers you some of the UK's finest cycling experiences.
Linking two world-renowned cities, the route takes you along quiet country lanes and off-road cycle paths to reveal ever-changing panoramas of tranquil villages, rolling hills and breathtaking rural landscapes.
We will publish the detailed route in early 2025. Until then, find out more about what makes the new route so special.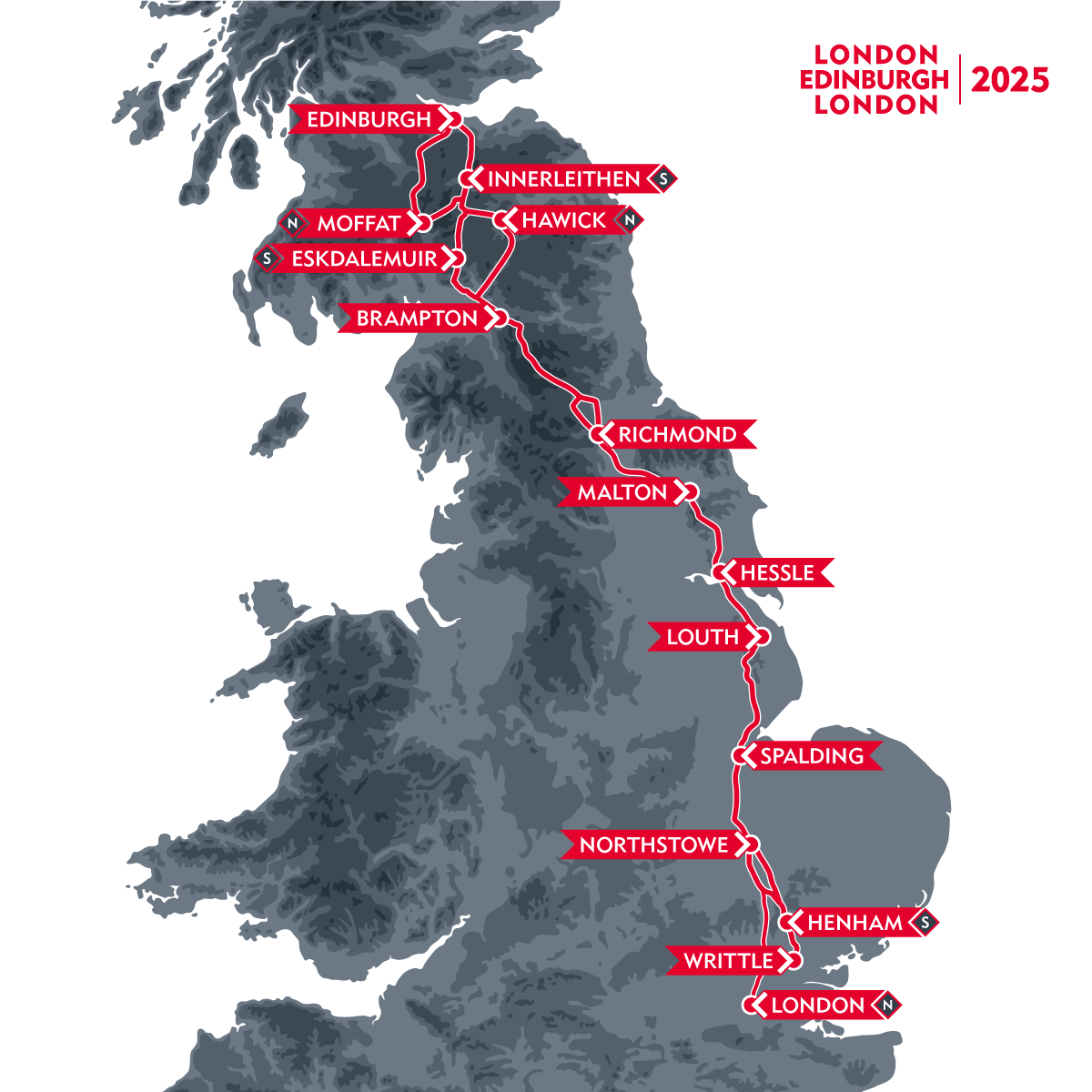 Controls
There are 21 control points (at 14 different venues) along the route. At each of these you can get hot food and drinks, a dormitory bed, showers, plus mechanical and medical support where available. At your two chosen controls – one in England, one in Scotland – you can access your drop bags.
IMPORTANT
You must visit – i.e. check into – all these control points in the correct order.
We also offer an ever-growing list of pop-up cafés and pop-up dormitories, which offer a limited range of facilities.
At our pop-up cafés you will need to pay for any food or drink, but all dormitory beds are free.
At our pop-up dormitories we will give you a limited breakfast but no other food will be available.
Pop-up cafés are highlighted in pink. Pop-up dormitories are highlighted in yellow.
Bag Drops: E – can be used for your English bag drop. S – can be used for your Scottish bag drop.
| | Location | Address | Distance | Food and Drink | Dormitory Beds | Showers | Bag Drops | Mechanics |
| --- | --- | --- | --- | --- | --- | --- | --- | --- |
| | London | Guildhall Yard, Gresham Street, London EC2V 7HH | START | No | 0 | | | |
| | Writtle | Writtle University College, Lordship Road, Writtle, Chelmsford CM1 3RR | START | Included | 160 | ✓ | | ✓ |
| C01 | Northstowe | Northstowe Secondary College, Stirling Road, Northstowe, Cambridge CB24 1DJ | 90 | Included | 0 | ✓ | | ✓ |
| C02 | Spalding | Spalding Grammar School, Priory Road, Spalding PE11 2XH | 162 | Included | 0 | ✓ | | ✓ |
| | Horncastle | Just One More Bike, 25 High St, Horncastle LN9 5HP | 200 | ££ | 0 | | | ✓ |
| C03 | Louth | King Edward VI Grammar School, Edward Street, Louth LN11 9LL | 241 | Included | 350 | ✓ | E | ✓ |
| C04 | Hessle | Hessle High School, Tranby House, Heads Lane, Hessle HU13 0JQ | 303 | Included | 350 | ✓ | E | ✓ |
| C05 | Malton | Malton School, Middlecave Road, Malton YO17 7NH | 364 | Included | 350 | ✓ | E | ✓ |
| | Rainton | Rainton Village Hall, Sleights Lane, Rainton, Thirsk YO7 3PH | 410 | ££ | 0 | | | |
| C06 | Richmond | Richmond School, Darlington Road, Richmond DL10 7BQ | 470 | Included | 250 | ✓ | E | ✓ |
| | Mickleton | Mickleton Village Hall, Mickleton, Barnard Castle DL12 0JR | 508 | ££ | 50 | | | |
| | Alston | Samuel King School, Church Rd, Alston CA9 3QU | 546 | Limited breakfast only | 80 | ✓ | | |
| | Alston | The Nook Farm Shop and Café, Castle Nook, Alston CA9 3BG | 550 | ££ | 0 | | | |
| C07 | Brampton | William Howard School, Longtown Road, Brampton, Cumbria CA8 1AR | 580 | Included | 350 | ✓ | E | ✓ |
| | Newcastleton | Newcastleton Village Hall, Langholm Street, Newcastleton TD9 0QX | 616 | Limited breakfast only | 60 | ✓ | | |
| | Newcastleton | The Olive Tree, 38 South Hermitage Street, Newcastleton TD9 0QE | 617 | ££ | 0 | | | |
| C08 | Hawick | Hawick Town Hall, Cross Wynd, Hawick TD9 9EF | 654 | Included | 150 | ✓ | | ✓ |
| | St Mary's Loch | St Mary's Loch Art Gallery and Café | 700 | ££ | 0 | | | |
| C09 | Moffat | Moffat Academy, Academy Road, Moffat, Dumfriesshire DG10 9DA | 724 | Included | 300 | ✓ | S | ✓ |
| | Broughton | Broughton Village Hall, ML12 6HF | 760 | ££ | 50 | | | |
| C10 | Edinburgh | Gracemont High School, 136 Lasswade Road, Edinburgh EH16 6TZ | 800 | Included | 250 | ✓ | S | ✓ |
| C11 | Innerleithen | St Ronan's Primary School, St Ronan's Rd, Innerleithen EH44 6PB | 842 | Included | 300 | ✓ | S | ✓ |
| | Hopehouse | The Bee Hive Café, Honey Cottage Caravan Park, B709, TD7 5HU | 870 | ££ | 0 | | | |
| C12 | Eskdalemuir | Eskdalemuir Community Hub, Eskdalemuir DG13 0QJ | 892 | Included | 65 | | | |
| C13 | Brampton | William Howard School, Longtown Road, Brampton, Cumbria CA8 1AR | 942 | Included | 350 | ✓ | E | ✓ |
| | Alston | The Nook Farm Shop and Café, Castle Nook, Alston CA9 3BG | 972 | ££ | 0 | | | |
| | Alston | Samuel King School, Church Rd, Alston CA9 3QU | 976 | Limited breakfast only | 80 | ✓ | | |
| | Mickleton | Mickleton Village Hall, Mickleton, Barnard Castle DL12 0JR | 1014 | ££ | 50 | | | |
| C14 | Richmond | Richmond School, Darlington Road, Richmond DL10 7BQ | 1052 | Included | 250 | ✓ | E | ✓ |
| | Rainton | Rainton Village Hall, Sleights Lane, Rainton, Thirsk YO7 3PH | 1099 | ££ | 0 | | | |
| C15 | Malton | Malton School, Middlecave Road, Malton YO17 7NH | 1144 | Included | 350 | ✓ | E | ✓ |
| C16 | Hessle | Hessle High School, Tranby House, Heads Lane, Hessle HU13 0JQ | 1211 | Included | 350 | ✓ | E | ✓ |
| C17 | Louth | King Edward VI Grammar School, Edward Street, Louth LN11 9LL | 1269 | Included | 350 | ✓ | E | ✓ |
| | Horncastle | Just One More Bike, 25 High St, Horncastle LN9 5HP | 1309 | ££ | 0 | | | ✓ |
| C18 | Spalding | Spalding Grammar School, Priory Road, Spalding PE11 2XH | 1349 | Included | 150 | ✓ | | ✓ |
| C19 | Northstowe | Northstowe Secondary College, Stirling Road, Northstowe, Cambridge CB24 1DJ | 1440 | Included | 300 | ✓ | | ✓ |
| C20 | Henham | Saffron Walden Rugby Club, Springate, Chickney Road, Henham CM22 6BQ | 1481 | Included | 50 | ✓ | | ✓ |
| C21 | Writtle | Writtle University College, Lordship Road, Writtle, Chelmsford CM1 3RR | 1530 | Included | 160 | ✓ | | ✓ |