What's it like being a volunteer?
Colin Chadfield writes about his experiences as a mechanic at Thirsk in 2013 and 2017. Click here for more information about being a volunteer.
Volunteers, I am told by many, make the event. This is true for the whole audax world, which offers cheap cycling adventures all over the world to anybody who fancies a go. Always cheerful, always helpful and sometimes in the middle of nowhere, they reaffirm your faith in humanity. After completing Paris Brest Paris in 2011 I was humbled by the level of community involvement at every stage and thought it was about time I contributed something to events at home.
When London Edinburgh London 2013 came along I felt that I didn't "have the legs" and so looked at volunteering. I live just 8 miles from one of the Controls at Thirsk (not an option for 2021) and thought I should be able to volunteer and not take any holidays to cover it. I worked in a local bike shop which is almost on the route (Cowley Cycles in Northallerton) and so offered to provide some spares and mechanic assistance.
The shop has a mobile set of kit for use at race events and so I did a deal with the owner to deploy it at Thirsk. All set to go, I could fit in a couple of days and evenings and make sure that tubes and tools were available.
I met up with the volunteer organiser for Thirsk and we split work up – I had fire safety expertise and so dealt with that.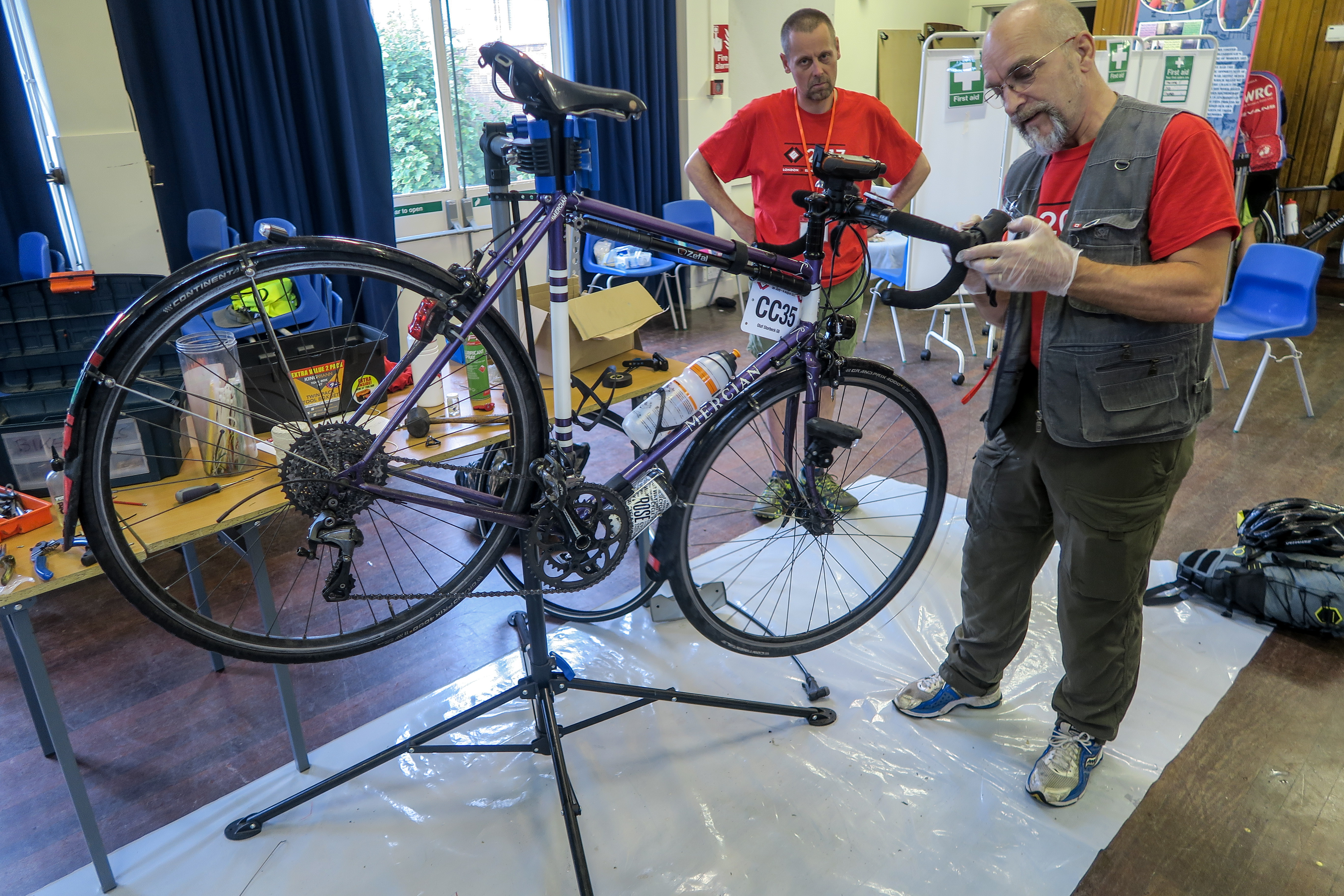 The informal nature of the event means that you can do as little or as much as you like. Most volunteers just turn up in time to set up the control or for their allocated time slots. Keep an eye out for appeals for help – Facebook groups for the volunteers are very good for this.
In 2017, I did not only help as a bike mechanic. I also rode a section of the route that had to be inserted as a late diversion to make sure the instructions were correct and route safe.
The event evolves for volunteers each time it is run. Lessons learned get incorporated to try to get the best value out of the resources. I remember the problems we had with hot water in the showers – just too many people for the system to cope with – and the "towels" that were only slightly bigger than face flannels. These things are discovered on the fly, as items delivered don't quite meet the specification promised. Just more problems for the volunteers to take in their stride.
Once the event was getting close, the control boss produced a schedule, trying to balance availability as declared by volunteers against the jobs that needed doing.
Reception outside, reception inside, sleeping booking, sleeping awakeners, drop bag managers, mechanics, "where can I charge my gizmo helpers" and first aid are just some of the jobs available.
As the event proceeds the demands change and you can find yourself doing every job that's going. Just be prepared to have a go at anything.
In 2013 we had a report of a rider walking with a broken bike some miles south of the control. From the descriptions given, he was in for a very long walk on his own. I set out in a car (the organisation covers car insurance for this) to try and find him as the endless stream of riders headed north. A good eight miles south I found the rider sat disconsolately on a bench with his bike and very worn SPD-SL cleats. Unusually, he had snapped the crank on his chainset. As I loaded the bike into the car more damage became evident – as the crank had snapped the chainrings had bitten into the chainstay and cut the carbon frame.
That was the end of the ride for him so I took the rider back to Thirsk and eventually delivered him to the train station at Northallerton to make his way back south.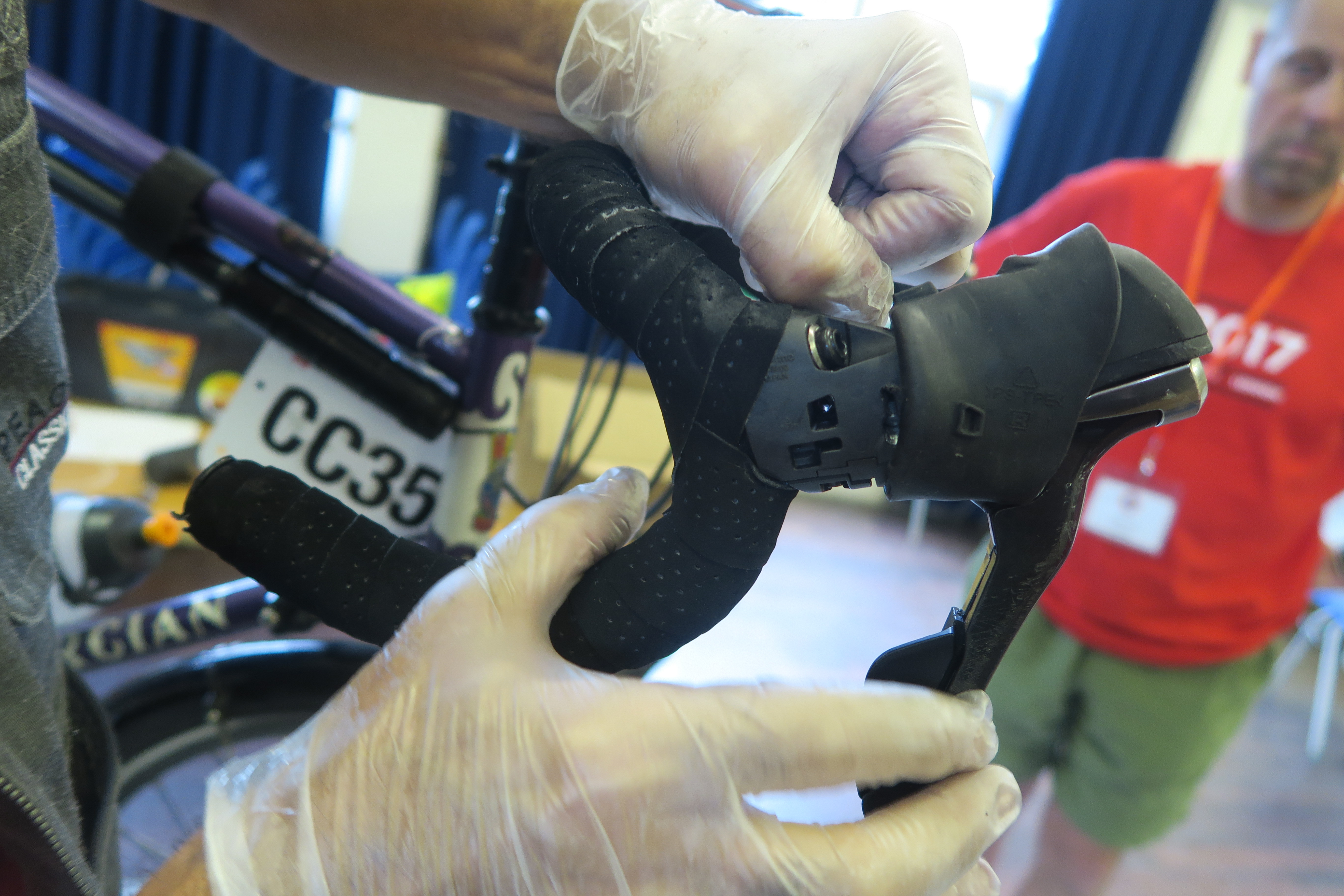 Which control to aim for?
This is an interesting question that I didn't really consider as it had to be Thirsk for me so that I could work and volunteer. The flow of riders significantly affects what your experience will be.
London volunteers will see the riders go and a couple of days later start to return.
At Thirsk, being half way, the first riders come in ones and twos to start with as the faster riders come in at about 14 hours from the start. You are then increasingly busy, hit a peak around midnight, then you are managing the sleepers. As dawn arrives you begin to get the later riders and those who stopped to sleep at earlier controls.
There is a couple of hours lag as the last riders are packed off, before, unbelievably, the faster riders come through going South! Work doesn't stop from this point until the last riders pass a couple of days later. There are fewer riders in the control at any one time, but the flow is steady. Contrast that with Edinburgh, where once the first riders arrive you are busy until the last one is gone and that's the end of it. So, if you fancy one long effort, go to a control north of Thirsk (or its equivalent this year) and if you would like a break head for a control to the south.
My advice to volunteers?
Commit to the event if you can so that you only have the one demand on your time and you will get more out of it.
Try to get some friends to come with you – controls never, ever, have too many people. Too few and it can be really hard work.
Make sure you get enough rest but remember that someone has to be there at 03:00 and it might be you.
Be open to anything.
And try to enjoy it – no matter how you feel, there will always be some poor rider who looks much worse than you.
If you'd like to register as a volunteer, click here